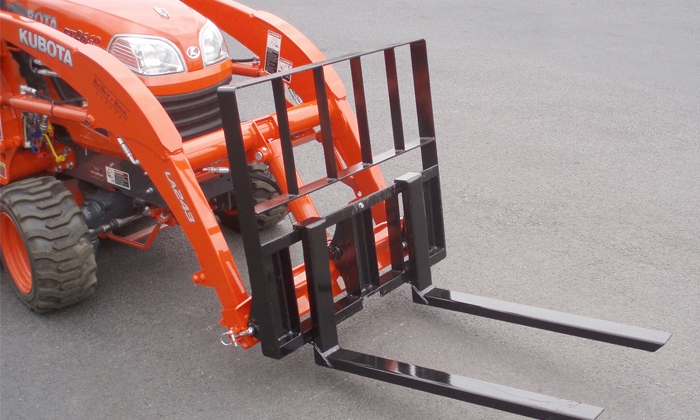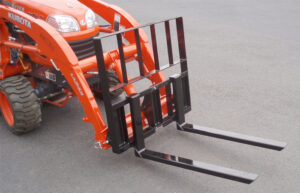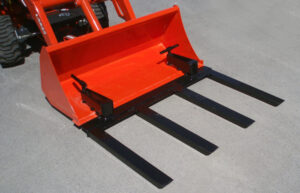 The compact tractor market has been a growing market for years and more and more Americans are using them to maintain their properties. They are used with attachments like mower decks to mow lawns and with loaders to work in the small farm market doing things like moving materials and cleaning up around the farm.
Because they are using the tractor loaders to move materials our clamp on pallet forks in addition to our quick attach forks help owners get the job done easily. Earth & Turf quick attach forks are designed for the lift capacity of the compact tractor loaders. As a result the operating load capacity is not taken up but the weight of the fork therefore the loader can be used to pick up a heavier load. Obviously no forks should ever be used in situations that exceed the safe operating load of the tractor.
In addition to our clamp on pallet forks another product we offer for clean up is our clamp on brush forks. The clamp on brush forks have four to five tines, depending on the width purchased, extending beyond the bucket for brush clean up. Because of the tines the loader is able to scoop up large amounts of brush the bucket would never be able to carry. Brush is bulky rather than heavy therefore the loader has the ability to carry a lot of this material because it can stick past the bucket.
We know there are many opportunities to provide attachments and accessories for these great little tractors. Attachments help improve function and productivity. Our job is to find areas where we can improve the tractor function so you, the owner, can get the most out of your purchase. We do this by looking for areas that are lacking and design products to fix these areas. Therefore review the site and the products as we hope you find ideas that will help you make your tractor do more. Finally keep visiting our site and we will do our best to create products to help you.