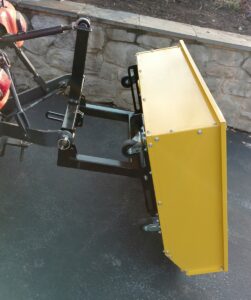 Earth & Turf Attachments is constantly designing new and different attachments for compact diesel tractors. We tend to specialize in products for tractors under 30 horsepower. This year we introduced two new products already and are working on a third unique product. The first one we introduced was the three in one three point hitch forks. Three point hitch forks have always been single purpose, lift a pallet or something move it and set it down and because they have always been built the same way that was all the could do. Our new forks are designed with forks tines that can fold up for storage or be remove very easily by taking out 4 pins. With the forks removed the unit is equipped with a receiver hitch so a user can put his receiver draw bar in to move things around and it also has a 3/8″ grab hook welded to the top so it functions as a log hitch to pull logs out of the woods or just lift things around the farm.
The second unit is a three point dump cart with caster wheels so when loaded you can move it around on a hard surface. The unit can be attached or detached from the ground without lifting to make you life easier. Now you can move mulch and dump it. Customer can also load it with wood or bags of wood pallets take it to the garage detach it and roll it up close to a door for easy access. Farms that have stalls with only a few animals can roll the cart back into the barn leave it their until the stall are cleaned out roll it back tot he door hook it up the tractor with no lifting required and take the load out and dump it. The possibilities go on and on.
you can check these new products out on our website or call us at 888-693-2638 for more information.
Enjoy your summer.