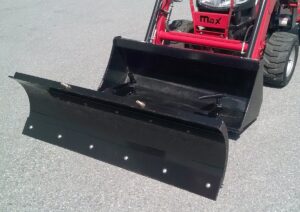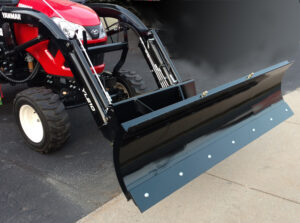 Many customers contact us about Earth & Turf Snow plows and wonder which mount would be best for them since we offer our popular heavy duty clamp on plows as well as the same plow with a quick attach or pin on mount. The answer is not as straight forward as one might think.
First on a clamp on plow where you keep your bucket on the plow width must be 12″ wider than the bucket because when the blade is angled you lose about 8-9″ of cutting width and customers don't want to end up with snow in the bucket. When choosing a clamp on plow it does move the plow out about 13-15″ further out front which works fine as long as the loader arms are run in the float position allowing the blade to float on the ground. If you are not familiar with putting your loader into float on most tractor loaders you push the loader control that drops the blade all the way down and tap it forward one more time and the loader arms should go into float position. Many customer that have a quick disconnect bucket system still choose the clamp on blade simple because they want to keep their bucket on the tractor at all times in case they go down a long driveway and want to do some bucket work at the road they can easily detach the blade and use their bucket. It takes about 2-3 minutes to remove the plow and about the same to install it again.
Now let's talk about the Quick Attach option some of the compacts may have.
The quick attach allows you to remove your bucket and replace it with the plow in about 1 to 2 minutes. One of the advantages of the using the QA system is it brings the plow closer to the tractor so the plow more easily can follow the ground contour. You also would not have to worry about getting snow in the bucket which would not happen anyway if you have the right combination of bucket to plow width with the clamp on.
The pin on blades would be where you take the pins out of your bucket and replace the bucket with the plow reinserting the pins and bolting them in.
This gives you similar advantages as far as plowing as the quick attach is is just time consuming and not many people opt to do this.
So many times it boils down to customer preference.
The good news for our customers is we offer a clamp on plow or a number of quick attach options and our snow plows come completely assembled and ready to use.
You call call us at any time to discuss your particular needs.
We are here to serve you and help you make the best possible decision when purchasing a snow plow. If you need help call us today.